Estee Lauder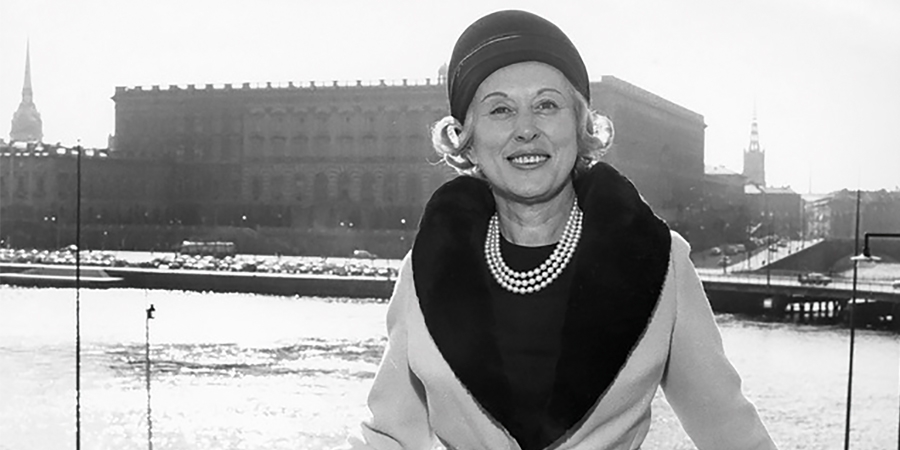 Estée Lauder 75th Anniversary: The Estée Story. "I never dreamed about success. I worked for it." — Mrs. Estée Lauder. In 1946, Mrs. Estée Lauder started her business that today still bears her name, with four skin care products and a simple premise: that every woman can be beautiful. Armed with that philosophy plus perseverance, creativity and passion, she changed the face of the cosmetics industry.
Role model
Mrs. Estée Lauder was a visionary and a role model. She was a challenger who proved that anything was possible — if you dared to dream it and had the guts and gumption to go for it. Ahead of her time in every way, she created and ran one of the world's most prestigious and innovative companies while serving as a wife, mother and a loyal friend to many. And she did it all with charm, humor and exquisite style. She loved beauty with a passion and believed wholeheartedly in its power.
The world has changed dramatically since Mrs. Estée Lauder created her brand. But seventy-five years later, the core values she embodied are still relevant and inspiring to women of all generations.
In the Beginning
Born Josephine Esther Mentzer, Estée was raised in Queens, New York, by her Hungarian mother, Rose, and Czech father, Max. The name Estée was a variation of her nickname, Esty. Her interest in beauty was sparked in high school when her Hungarian uncle came to live with her family and created velvety skin creams, first in the kitchen, then in a laboratory in a stable out back. From her uncle, Mrs. Estée Lauder not only learned how to concoct the wonderful creams but also how to apply them to women's faces.
In the late 1920s, she met Joseph Lauter. They were married in 1930 and moved to Manhattan. Shortly thereafter, the couple adopted the surname Lauder, correcting a misspelling that dated back to when Joseph's father emigrated from Austria to the United States.
Mrs. Estée Lauder got her start selling skin care and makeup in beauty salons, demonstrating her products on women while they were sitting under hair dryers. In 1946 she and Joseph Lauder officially launched the Estée Lauder brand, and a year later they got their first major order: $800 worth of products from Saks Fifth Avenue.
Knowing What Women Want
Mrs. Estée Lauder had innate instincts for what women wanted and was the consummate saleswoman and marketer. She believed that to make a sale, you had to touch the consumer, show her the results on her face and explain the products. That was the start of the Company's personal High-Touch service.
She took the Gift with Purchase idea to new heights, elevating it such that it became standard industry practice.
Once the Estée Lauder brand began to advertise, she insisted that the print images be both aspirational and approachable and selected one model to represent the face of the brand at any given time. She picked the pale turquoise color for the brand's jars, believing it conveyed a sense of luxury and matched all bathroom decors.
Mrs. Estée Lauder attended the opening of virtually every new store and stayed for a week to instruct her beauty advisors on sales techniques and merchandise display. Always stylish and well dressed, she crossed the country to meet with store buyers and beauty editors and to talk to consumers. She was a one- person research department.
Decades before social media became mainstream, she ran word-of-mouth campaigns. Her oft-repeated mantra was "Telephone, Telegraph, Tell a Woman." She believed that women who liked her products would spread the word.
Pushing the Boundaries of Beauty
Mrs. Estée Lauder was a skin care pioneer, but she also had a wonderful fragrance "nose." One of her earliest successes was Youth-Dew, a blend of rose, jasmine, vetiver and patchouli that would bring her olfactory fame.
Until the 1950s, most women reserved fragrance for special occasions. A woman would wait for her husband to give her perfume on her birthday or anniversary. She wanted to find a way for women to buy their own perfume, so in 1953 she created Youth-Dew, a bath oil that doubled as a skin perfume. This innovation took the cosmetics industry by storm, changing the way fragrance was sold and transforming the fledgling start-up company into a multimillion-dollar business.
Mrs. Estée Lauder was the quintessential entrepreneur who refused to listen to experts or settle for anything less than the very best. She constantly challenged the status quo and is described as someone you simply couldn't say no to.
An American Icon
Mrs. Estée Lauder was an iconic American entrepreneur. She loved New York City and drew inspiration from its sophisticated, vibrant, stylish culture. In the middle of the 20th century, New York was the global center for art, architecture, innovation and entrepreneurship. Although her heart was in New York, she had homes in the South of France, London and Palm Beach, among other locales. She traveled the world and loved to visit museums and art galleries, attend fashion shows and learn about her customers and their respective cultures.
As a visionary businesswoman, she was honored with many awards during her career. Receiving the French Legion of Honor was one of the high points in her life. She supported numerous civic and cultural programs and other charitable causes, including the restoration of the Palace of Versailles and the building of several playgrounds in New York City's Central Park.
The only thing more important to her than the Company was her family, and she was thrilled that her children and grandchildren joined the family business. She retired in 1995 and passed away in 2004.
Mrs. Estée Lauder's Inspiration Today and Legacy for Tomorrow
The world has changed dramatically since Mrs. Estée Lauder created her brand in 1946. But the core values she embodied are more relevant and more inspiring to women of all generations than ever before. Today the brand engages with women in more than 150 countries and territories and at dozens of touch points — both in stores and online. And each relationship consistently reflects Mrs. Estée Lauder's powerful and authentic convictions and unique point of view. Her perseverance, creativity and passion made the Estée Lauder brand successful yesterday and continue to fuel the brand's success for tomorrow.
Uit de editie van
juli 2021
Zomer